Three major themes emerged:
Health was key in the ingredients space, including a focus on higher quality proteins and new approaches in sugar reduction.
Innovation was also abundant in novel processing technologies, with producers looking to maximize yields via methods such as upcycling and precision fermentation.
Meanwhile, plant-based continues to extend its position as a leader of product and process development.
With more than 1 in 4 consumers globally turning to positive nutrition as a dietary choice, producers are addressing holistic health through functional ingredients. In the nutritional science arena, Fonterra used FiEurope to highlight its use of probiotics, phospholipids and lactoferrin in products designed to support health and wellbeing. On show were its "weight and stress management" Nutiani range including a granola bar and a protein and phospholipid shake. Meanwhile, feelgood indulgence with reduced sugar was the key feature of Cargill's Gerkens Sweety cocoa powder range. Winner of the FiEurope Sensory Innovation award, the product has been engineered to heighten sweetness perception. This allows for taste retention and a 30% reduction of sugar without adding sweeteners or artificial ingredients.
Extracting maximum flavor was a key goal in a number of the novel processing technologies featured in Paris. MLB Biotrade showed off its ground, freeze-dried fruit and vegetable combinations which just require water to produce a natural smoothie. With no nutrients lost on the shelf, the reduced weight of the product also lowers transportation costs. Aliga showcased developments in microalgae. Obtained through fermentation, its chlorophyll-free chlorella removes coloring issues and strong off-notes and is suitable for meat and seafood alternatives.
In plant-based – a strong focus at FiEurope – there was a wide range of niche plant proteins gaining a slice of the limelight, including fava bean, pumpkin seed and peanut. In dairy alternatives, Kern Tec took home the Fi Startup Innovation Challenge award with a drink puree made with a base ingredient of apricot seeds leftover from juice production. Kern calls it "the most sustainable dairy alternative on this planet". There were different strategies offered by brands producing plant-based cheeses. Aviko Rixona replicates fat-free cheese texture using potatoes, for use in finger foods and as a pizza topping. Another award winner, Bunge, showed off its PurePro pea and faba proteins; designed to create a gooey melt. And DMK Group brought along a German chef to cook with plant-based cheeses that it claims can be used in all the same ways as dairy offerings.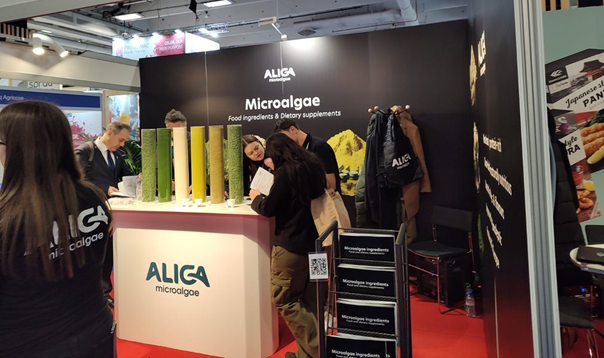 FiEurope once again gave a stage to truly cutting-edge innovation. Hitting a number of on-trend concepts, it showed the food and beverage industry embracing and tackling the range of environmental and economic conundrums. From the award-winners and boundary-pushers promoting their latest developments in Paris, a challenge has been placed to create even more functional innovation in time for Frankfurt 2023.
Show Review: Fi Europe 2022 is a new report from Innova Market Insights, analyzing the key takeaways from this major tradeshow, held this year in Paris. It looks at the key trends and latest product innovations on show, offering insights and inspiration. It gives Innova customers an exclusive, in-depth, behind-the-scenes look at the standout food and beverage developments dominating Food Ingredients Europe. Innova customers can access the full report here: FiEurope 2022 Show Review! If you want to learn more about Innova's subscription options, please get in touch: contact@innovami.com!