To set the mood and provide inspiration ahead of ISM, Innova will present our latest webinar – Innovation Opportunities in Snacks – on March 29. Led by Insights & Innovation Team Manager Nicole Jansen, this presentation will look at the major growth opportunities in the sector and apply our Insights 360 approach to the latest consumer and market data. It is the perfect prelude to Cologne, offering a detailed look at what's now and next in snacks. Register for this must-see webinar now here.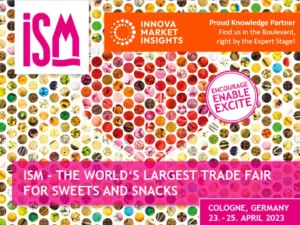 You will be able to find Innova in the heart of the action in Cologne. Visit our team on the boulevard, right next to the Expert Stage. On that stage, we will host presentations every day between April 23 and 25. These include Snacks With Benefits: Opportunities in Confectionery, looking at growth opportunities for treats that have added health benefits. We delve into the consumer demands driving the need for snacks that combine enjoyment and positive nutrition.  
We will also be showcasing live presentations of our industry-defining Top Ten Trends for 2023, where you can learn how a global cost-of-living crisis is shaping consumer priorities in surprising ways. Covering such insights as the trend-creating actions of young consumers, how brands best communicate complex health messages, and the rise in importance of small indulgences, Innova's Top Ten Trends offers the most complete data-backed forecasts based on the latest global consumer research. 
ISM offers the perfect opportunity to network with industry leaders from around the world, sampling the latest products and gaining inspiration from innovation. The Innova team will be on-site to help visitors explore opportunities for innovation and growth. Take time to see our New Product Database and Genius Dashboards in action and discuss how they can help you achieve your specific innovation goals. To join us, follow this link to the ISM website. We look forward to seeing you there.