The Ellen MacArthur Foundation states that "a circular economy is based on the principles of designing out waste and pollution, keeping products and materials in use, and regenerating natural systems" (EMF, 2019).
However, achieving this ambition will require stakeholders across the packaging world to be equipped with the contextual understanding, systems thinking, packaging knowledge, analytic tools and skills to effect the urgent need to transition their businesses from a linear to circular economy.
There are many strategies and policies needed to evolve a truly sustainable circular economy. In addition to metals, glass, plastics, paper and other biomaterials, this will also involve smart materials, advanced recycling technologies, connected technologies, renewable energy and innovative business models enabling packaging reuse.
However, a prerequisite is that packaging needs to be "fit-for-purpose" before it can be circular. The "The Format Material Cycle" illustration (refer to Figure 1) shows a simplified model of how packaging can be seen as a circular system, both as a format and as a material.
Figure 1: The Format Material Cycle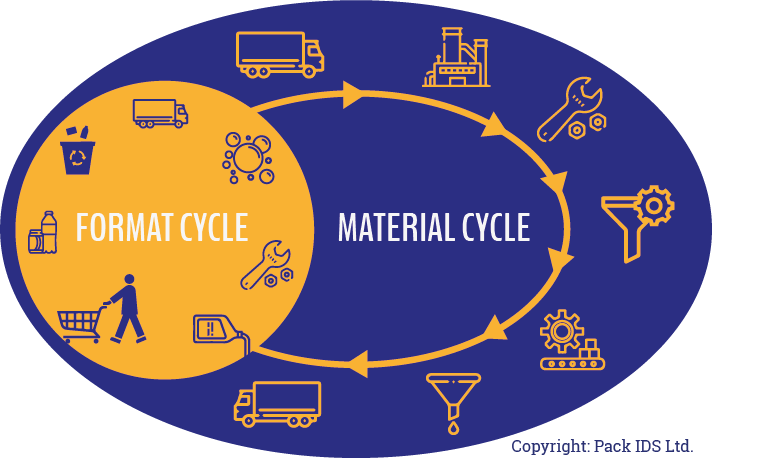 It is essential, therefore, that pack designers, technologists, innovators and other key stakeholders develop a broad knowledge of packaging and supply chain operations, engage with the circular economy and be able to apply sustainability principles soundly. This involves implementing Design for Circularity packaging strategies and using Lie Cycle Assessment (LCA) tools (refer to Figure 2).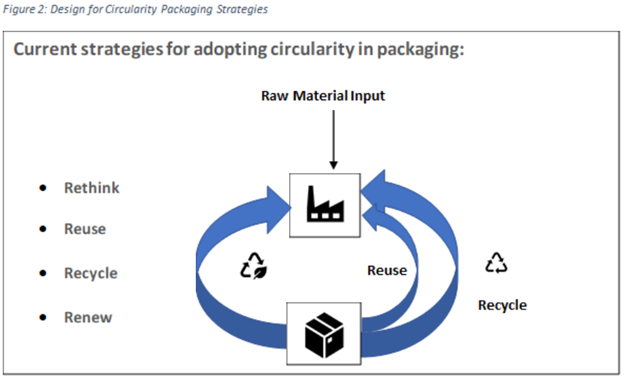 Circular economy challenges
The drive to reduce virgin plastics and increase circularity will impact design, innovation, business models, supply chains and other infrastructures and, importantly, consumer behavior. This will raise challenges for innovators, designers and entrepreneurs based on the likely dramatically increased number of opportunities for circular economy packaging innovation and design.
In late 2018, the New Plastics Economy Global Commitment, led by EMF in collaboration with the UN Environment Programme (UNEP), was signed by many of the world's largest packaging producers, brands, retailers and recyclers, as well as governments and NGOs. The Global Commitment represents a groundbreaking vision to move from a linear to a "circular economy for plastic in which it never becomes waste."
However, packaging is more than just plastic. All material options need to be considered in ensuring the optimal circular economy material and format design choices are made while delivering the desired functionality. For example, reducing food waste by consumers and preventing food loss in supply chains needs to be considered in packaging decision-making.
Also, more attention is merited for packaging reuse and other end-of-use scenarios despite the prevailing focus on recycling. In fact, EMF's circular economy principles prioritize reuse over recycling.
Circular economy benefits
Market and societal needs will help drive the emergence of the circular economy on account of the benefits it can offer. These benefits may be summarized to include (among others):
Reduce risk
Enhance business/brand reputation
Future-proof business models
Stimulate innovation to gain competitive advantage
Reduce raw materials
Conserve finite resources
Eliminate waste
Reduce carbon footprint
Create local supply chains and boost the local economy
Create employment opportunities
Attract talented workforce
Increasingly, branded goods manufacturers, retailers and governments will be held responsible and accountable for ensuring circular packaging is designed, and the necessary resource recovery infrastructure and technologies are established to support this.
Brands with a good ethical story (e.g., B Corporation certified) are the ones most likely to thrive and survive with increasing media and public scrutiny of sustainability credentials and the enhanced eco-awareness of consumers, particularly millennials and Z-gen. Promoting more sustainable consumer consumption is another major challenge the system must support.
Consequently, there is a fast-growing societal and industry need for a new generation of visionary and creative circular economy business managers, designers and innovators to close the loops. In doing so, they must gain insight into the local versus regional versus global contexts regarding packaging for the circular economy, as is being initiated in the EU, the UK and China. They will have broader effects on packaging designs, formats and materials, especially for packaged goods available in more than one country.
Groundbreaking new packaging for circular economy course
A range of packaging education and training programs are available from the Institute of Materials, Metals and Mining (IOM3), reflecting its stated mission "to promote the science, design, engineering and technology of materials minerals and mining and their practical applications." The IOM3's Vision is "to be recognized as the global leader for professionals involved with the materials cycle."
With the IOM3's mission in mind, Emagine Packaging and its partners have developed a unique course entitled "Packaging Innovation and Design for a Circular Economy Future" (Pack4CE®), which is due to be launched this April. The course covers the steps needed to design more sustainable packaging products while asking what matters most to businesses and consumers.
This new Pack4CE® course supports the growing global government and industry commitment to promoting the creation and development of packaging solutions that are truly circular and more sustainable – socially, environmentally and economically.
Richard Coles FIMMM, Director of Emagine Packaging Ltd