The Innova Database reveals that multiple human food trends have carried over to pet food, for example:
• "Free from" claims are appearing more often, including claims of gluten free, grain free, and no artificial additives/preservatives.
• Ingredient origin statements like "Made in the USA" have become an important assurance of food safety and quality, appearing on three times as many product launches in 2019 vs 2015.
• Seasonal, limited edition items have increased in quantity, as pet parents lavish their fur babies with Valentine's Day and pumpkin spice flavored treats in addition to winter holiday gifts and treats.
• The share of pet food launches promising human grade ingredients has doubled over the past five years.
Pet foods should be free from the same ingredients their humans avoid
Ingredient information is no longer relegated to the back panel of packages, as can be seen on the product below found at Sam's Club warehouse stores. Member's Mark Grain Free Dog Treats are boldly labeled "No soy, wheat, corn or artificial preservatives." This product also carries the Non-GMO Project Verified seal and a Made in the USA seal.
Members Mark Grain Free Dog Treats With Peanut Butter Flavor (US, Mar 2020), I And Love And You Stir Mix A Little With Beef And Bone Broth Instant Homemade Dog Food (US, Feb 2020), Milk Bone Be My Valentine Mini's Dog Snacks (US, Jan 2020).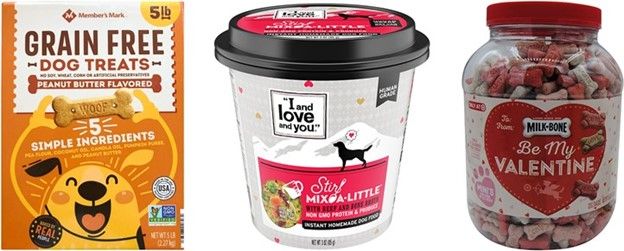 Human grade ingredients combine with human food appearance
Gone are the days when pet food all looked the same: like either brown mush in a can or dry brown kibble chunks. Pet foods increasingly look like human foods in color, shape and texture. Dog owners in particular have proven willing to trade up to premium foods in order to prolong the lifespan and vitality of their precious pets as well as to feel like they are doing everything they can to make their dogs happy. The "I and Love and You" brand offers Stir Mix a Little in tubs that look like a human ready-meal. Just add water to create "instant homemade dog food" that contains beef, bone broth, a variety of vegetables, and even probiotics, fish oil and other nutritional supplements.
Pets now participate in every holiday
From Valentine's Day to Christmas, there is an increasing array of options for pet owners to share the holiday fun with their pets.
"Pet Food in North America," is a new Trends Insider report from Innova Market Insights, for an in-depth review of retail sales and new product launch trends in pet food and treats, plus highlights of innovations in pet supplements.