Consumer research has shown that 40-50% of North American consumers buy cakes, pastries and sweet goods simply because they're tasty and a similar number because they want to indulge or reward themselves. There is also a strong "feel-good" factor involved, with a further third saying that they buy cakes to make themselves feel happy.
When it comes to taste demands, 53% of consumers also expressed a clear preference for new and exciting flavors so it is no surprise to find a thriving market for limited edition launches in both cakes and cookies. In addition, seasonality remains important, including products for specific celebrations, e.g., Christmas and Halloween, or simply for specific times of year, e.g., pumpkin spice flavored products, which have become an annual focus of development in the fall.
While cakes and cookies are inherently indulgent, this image can be further enhanced through the transfer of tastes from other indulgent categories, e.g., Pepperidge Farm Milano Amaretto Hot Cocoa cookies or Glico Pejoy Caramel Macchiato cookie sticks. Meanwhile, co-branding is another taste-related tool used widely by bakery innovators, e.g., Reese's Peanut Butter Cup Oreo cookies.
Nabisco Oreo Reeses Peanut Butter Cup Flavor Cream Chocolate Sandwich Cookies (US, Jul 2020), Catalina Crunch Keto Sandwich Cookies With Vanilla Creme Flavor (US, Apr 2020), Pepperidge Farm Farmhouse Gluten Free Thin And Crispy Butter Crisp Cookies (US, Jan 2020).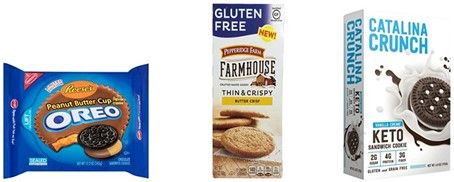 Although taste is still king in the sweet bakery arena, suppliers continue to balance flavor and indulgence with clean, positive nutrition. For example, new product activity demonstrates a clear increase in the use of Non-GMO and HFCS Free (high fructose corn syrup) claims, and many messages of this kind are moving to the front of packs.
Gluten free development has boomed over the past 10-15 years and is now so established that the market is segmenting to include an ever more diverse range of gluten free products. It is also attracting attention from more mainstream brands. For example, in early 2020, Pepperidge Farm launched gluten free versions of its Farmhouse cookies, while a gluten free Oreo cookie is slated for launch this year.
Other growing segments within sweet bakery include products with high protein contents and low carb/high fat choices geared towards keto diets. Between 2015 and 2019, the share of new products carrying High in/Source of Protein claims increased at a CAGR of almost 19% to reach 5% of all launches. Meanwhile, in the US, although keto claims remain niche, they increased five-fold between 2018 and 2019 and more than doubled again in 2020.
Looking ahead, there are growing signs of interest in "plant based" descriptors in this market so more of these positionings are expected going forward. Meanwhile, the trend towards palm oil reduction could transfer to North America from Europe. The COVID-19 crisis ensures continued demand for indulgent and familiar products for comfort eating, but there could also be future scope for mood foods, e.g., baked goods with calming CBD or adaptogens. Immune health demands could also open doors for probiotic products or those with immune friendly superfood ingredients.
"Sweet Baked Goods in North America" is a new Category Insider report from Innova Market Insights. It bring together analysis of new product developments and trends, market sizes and industry structure to demonstrate how the category has been evolving and to suggest where future opportunities can be found.